Watch our  v i d e o  – pure urban mobility
AERODYNAMIC 'HANDCRAFTED' CARBON-COMPOSITE FRAME.
A REVOLUTION INSPIRED BY THE AEROSPACE INDUSTRY.
Purismo AURELIA features the most innovative design. Ultra lightweight combined with extreme stability but much more agility. The carbon frame is built using the same standards as for the world's fastest cars of Formula 1.
Lighter is just the beginning. We raised design and security to new levels delivering unprecedented excellence and freedom.
With its weight of 13 kilograms Purismo AURELIA is outstanding lightweight.
The distance covered by Purismo AURELIA is more than 40 kilometers – best for the urban area.
Purismo AURELIA drives like a road race bike – easy and fast.
The legal 27km/h can easily be reached with Purismo AURELIA – a feeling like flying over the streets.
Elegant folding mechanics reduce Purismo AURELIA to half of its length – easy to grab, carry and put to a secret place.
We designed everything around you
Sitting with perfectly balanced weight distribution
you will experience the most natural handling imaginable.
Purismo and you will become a outstanding unit with an unequalled riding experience.
SCHWALBE(c)
big apple tires
Comfortable cycling with SCHWALBE big apple tires using a revoluntionary technology.
Air cushion tires are used as natural suspension. Inflated to around 29 psi a Balloonbike rolls really easily and with a full suspension effect.
A normal tire with a width of 37 mm must be inflated to a rock-hard 58 psi, in order to roll similarly well. This tire uses a level 4 race guard and offers a good protection for light and sporty tires.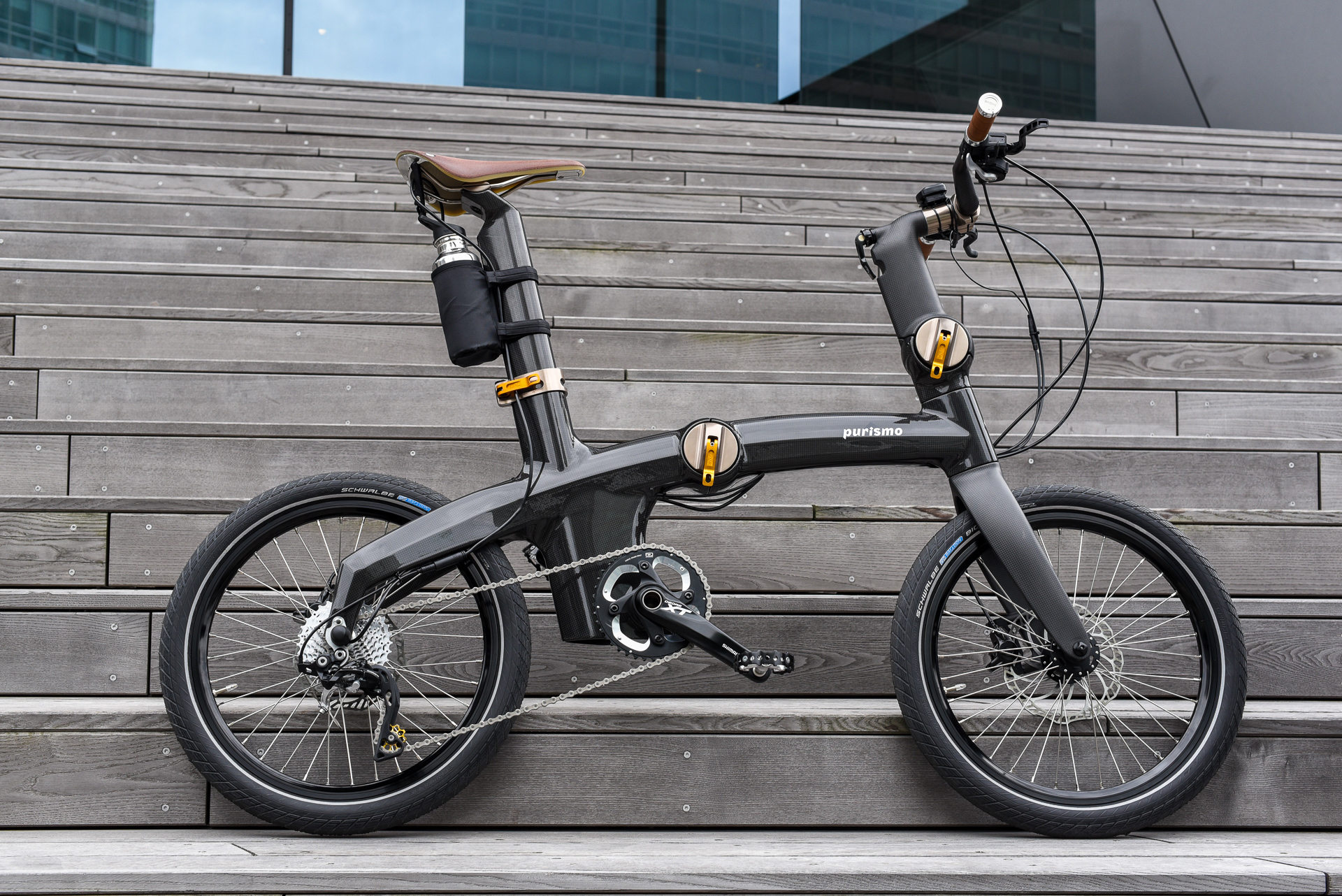 Start to feel pure urban lifestyle with a message.